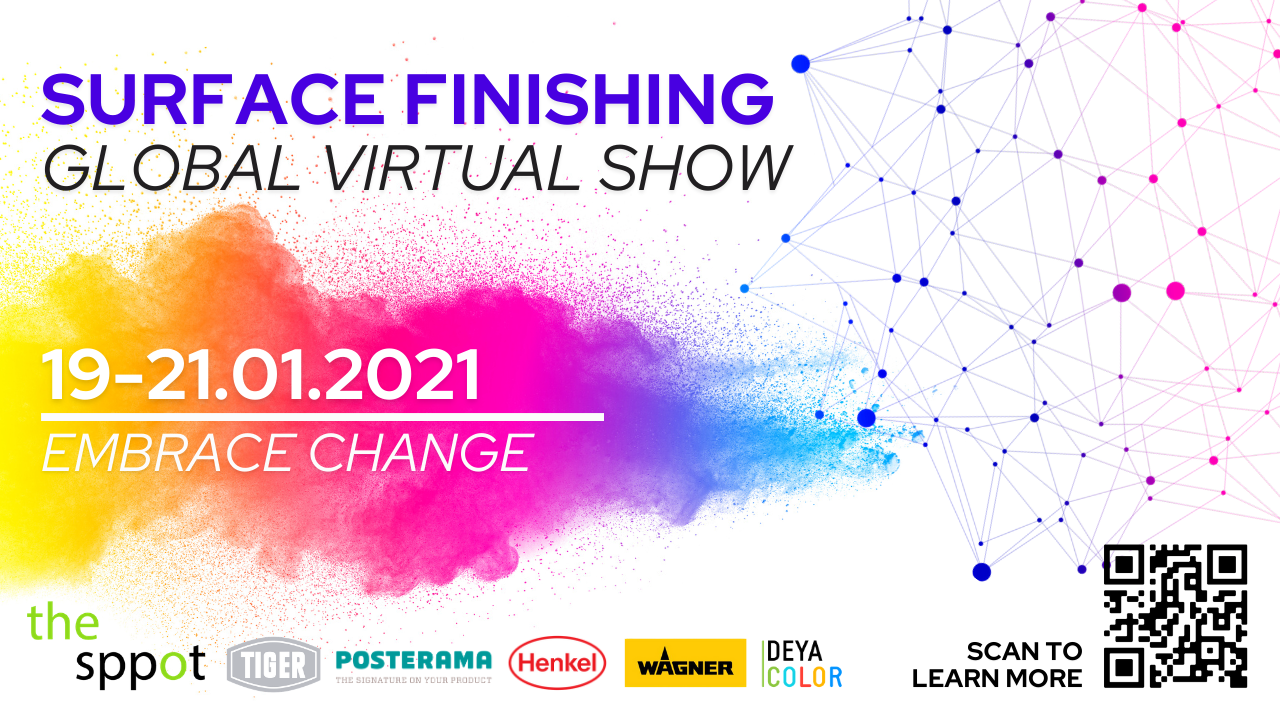 In the end of January, the sppot initiated the first digital seminar dedicated to coatings technologies and innovations - Surface Finishing Global Virtual Show.

In times of growing bicycle demand, supply chain distortions, social distancing and general uncertainty we dared to embrace change. The sppot and its partners form TIGER Coatings, Henkel, Posterama, WAGNER Group and our team - Deyacolor, offered a three-day online event which aimed to bring us close and be helpful to our customers.
Over 170 international visitors from Europe, Asia, Near East, and the US, joined us for 14 webinars on 7 topics, introduced by 6 noted industry professionals. The attendees had the chance to discover the latest product developments and innovative technologies from the sppot and our partners. From cutting edge dititalized surface finishing innovations to new color collections and decorative solutions, the show had it all, and we couldn't be happier that we have shared all these with you.
Here are the event highlights:
TIGER Coatings presented two very innovative solutions:
TIGITAL: 3D printing is a technology, based on thermoset materials, which utilizes the full potential of 3D-printing in the Bicycle and Sporting Goods industries. From components to detailed accessories, this innovative technology provides an effective and efficient concept and production solution.
Through its Real Time Modelling technology TIGER Coatings is set to revolutionize the processes of color selection, rapid prototyping, and product development. This innovative solution enables a realistic 3D capture, which brings your product designs and colors to life. The result is a solution which has the potential to vastly optimize your product development and design processes.
HENKEL showcased efficient and effective pretreatment solutions:
Being the leading provider of pre-treatment solutions for Aluminum parts, Metals and Welded Aluminum, Henkel presented in the webinar technologies which considerably improve the weldability of alloys, offer great corrosion protection, and provide strong coating adhesion. These solutions help in the reduction process steps, improve efficiency, sustainability, and facilitate cost savings.
BONDERITE M-PP is an innovative surface protection technology which provides a simple and economical alternative to electro coating. This allows the application equipment and process control to be easier and less expensive, providing the best corrosion protection for steel bicycle frames and components.
Posterama's new S&L decal box:
Posterama presented its new decal magic box! This new toolkit, specifically developed for designers and product developers, aims to enhance our creative process and get us inspired with fresh ideas for bike styling and finishing. The S&L magic box contains a complete overview of all decal types provided by the bike decoration supplier with the broadest product range of solutions for under and upon the powder (clear) coating.
Powder and liquid coating application systems from WAGNER Group:
WAGNER Group is a leader in the development of highly technical coating application systems. From manual to highly automated systems, the company presented its wide range of custom-built solutions for powder coating applications. Through their digitalization, versatility, quick color change, easy cleaning and environmentally friendly powder recovery systems, these solutions are ideal for variety of coating scales and needs.
Further, as a supplier of innovations with highly efficient, user-friendly, top-quality automated solutions. WAGNER showcased their latest robotic systems, which optimize the coating process and set new standards in bicycle surface technology.
If you are eager to learn more details about the topics of the webinars, do not hesitate to contact our team.
We would like to thank everyone who joined us in this virtual venture and hope that soon we shall be able to meet in person away from the screens of our devices.